We're guessing you already heard the amazing news that there's Teak available for builders outside the boat building industry, here in the US, ready and waiting for you to purchase. (If not, go back and read this post, so you're up to speed.) While most of the Teak boards we receive in a given shipment are FEQ, A Grade materials, which are actually considered above-grade for most industries, not all of it will be. But that still presents you with a great opportunity. Let us explain the how and why.
Do You Really Need Above Grade Teak?
While not all Teak (even Authentic Burmese Teak, which is the only kind we carry, by the way) will be above grade, let's be honest about something: just like you don't always need long boards, you don't always need above-grade material. I get it: the American way is to always prefer the biggest and best. But there's a problem with that mindset, and it affects more than your pocketbook or project budget.
Like all lumber shipments, a given shipment of Teak will almost always include a percentage of B grade boards. And honestly, because of the distance it has come and the fact that, let's face it, it's still Teak, you're not going to save much by purchasing B grade Teak. Maybe you'll get it at a 10% discount, but you shouldn't expect more than that. But we still think you should consider it.
Why Should You Consider Buying B Grade Teak?
If you don't get a break when it comes to the price, why should you consider buying B grade Teak? For one thing, it's Teak, and it's readily available. If you follow the Teak market at all, you realize that's a pretty amazing opportunity, right there.
While NHLA grading standards don't directly apply to Teak and other exotic hardwood lumber species, the fact remains that lumber grading is based largely on size and percentages — which is precisely why short boards should be on your radar. Just think: narrow Teak boards in the 4-inch range can be ideal for paneling, trim work, and more.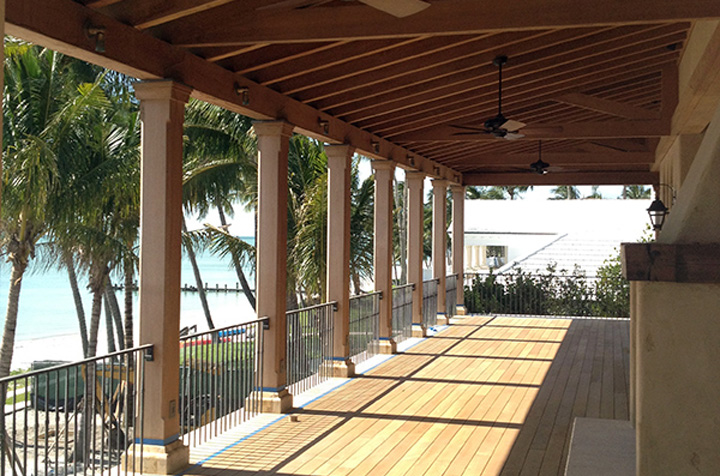 Does It Really Matter if I Buy It?
Perhaps an even more compelling reason to consider purchasing B grade Teak is part of a much bigger picture. As Bob Taylor once explained  regarding Ebony (incidentally, not a species that we carry), widespread refusal to consider B grade wood can end up leading to an overall devaluing of lumber. If the lumber has been harvested but ends up being essentially worthless, because there's no market for it, everyone will suffer: lumber mills, lumber customers, and local economies.
You have a unique opportunity right now to purchase Teak, and none of us knows how long that window will be open. We highly recommend that you consider Teak for your upcoming projects & encourage you to even recommend Teak to your customers.
Continue reading with Part 5.