While the Teak industry has traditionally revolved around the needs of boat builders, the current market has allowed for those in other industries to have access to premium Teak. With the high degree of fluctuation within the Myanmar government, Teak availability has been anything but reliable in recent years. So trust us when we say that you should run, not walk, to your local Teak Importer of Record to acquire some of this gorgeous Teak that's currently available to you!
Wait, What's the Catch?
There really is no catch, believe it or not. Because of the unique needs of the boat-building industry, there's truly plenty of fabulous Teak that cannot be used for the marine applications for which it's been imported. Most lumber applications don't have nearly the kind of extreme conditions to deal with, though. Because of the way Teak is purchased, an importer must purchase a high volume of Teak. Like all lumber species, a shipment will come with a certain percentage of boards that don't quite meet the requirements of the target audience — in this case, boat builders. As a by-product of seaworthy Teak orders, there's plenty of terrific Teak here in the US, ready and waiting for you at your lumber importer's yard.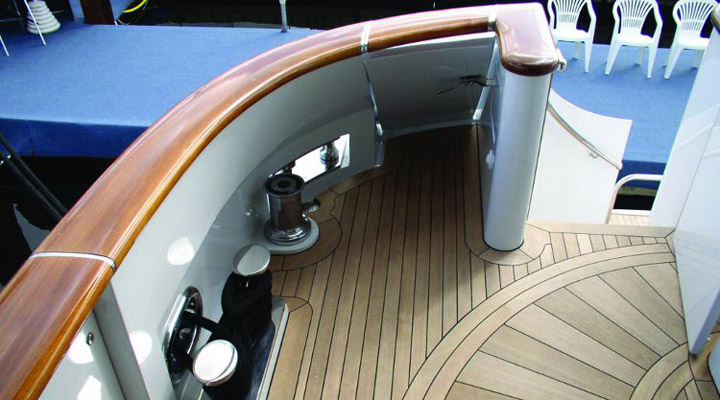 Do I Really Want Rejected Wood?
The issue, when it comes to the boat building industry compared to other industries, boils down to differences in expectations or requirements. But even within a given industry, there will be different requirements for different applications — or even preferences. For instance, this is true even within the boat building industry. Let's say we have a customer come to hand pick Teak for steps that will have a bullnose profile; understandably, he will be looking for boards with consistent vertical grain on both one face and one edge. The builder might come across some great boards with cathedral grain that would be great for plenty of other applications but won't work well on multiple stairs, where the grain needs to match up well; so he will leave that cathedral board behind.
Not only does each application require a specific grain pattern, but it also requires a specific length and width. If the next customer comes looking for long boards with which to build covering boards, the shorter boards that the first customer could use for steps would not be good options. Maybe after looking through a pack of Teak, a given boat builder will find one that meets his standards, leaving anywhere from 6 to 9 "leftover" FEQ Teak boards. Perhaps some of those boards include tiny pin knots. While they're not usable for boat builders, they're still above-grade for most other industries.
But of course, not all Teak is going to be FEQ or above grade. But it still represents a great opportunity. More about that in our next post, Part 4 in our series on Teak.