One of the most attractive aspects of Teak is, undoubtedly, its color. One of the most frustrating aspects of Teak is, again, its color. The rich honey-brown hue with straight, even grain, is what many people love about Teak, but the color change that has to occur before this unusual species achieves that look is, well, nothing short of bizarre.
Freshly planed lumber of any species will look different at first compared with how it will look after it's been exposed to the environment; typically, though, the change is simply a general mellowing or darkening. With Teak, however, the change is much more significant. Freshly milled Teak is often dark and streaky; sometimes it even includes odd colors such as blue or green — or even yellow or black. Because Teak is so well known for its rich, consistent coloring, and it is often used for high-end, high-profile applications, the expectations-versus-reality disparity is quite significant.
Understanding Teak Color Change
The natural tendency of most people is to assume that improper drying or seasoning is to blame for Teak's unusual coloring upon milling. However, that is far from the case. Tests have even been done where Teak is put through a variety of kiln-drying schedules; regardless of temperature of the kiln and the amount of time the boards spend in the kiln, though, the result is the same: discolored, ugly, wood.
Ironically, the very same qualities for which Teak is sought after — especially for marine applications — are the ones that lead to the streaky, splotchy discoloration of freshly milled Teak. As the silica and other extractives are exposed to UV light, the wood becomes oxidized quite quickly, causing dramatic color change. The color change is the result of a chemical reaction in the light-sensitive pigment and oils. (In fact, significant color change can occur in a matter of hours, as this video, complete with time-lapse footage, demonstrates.)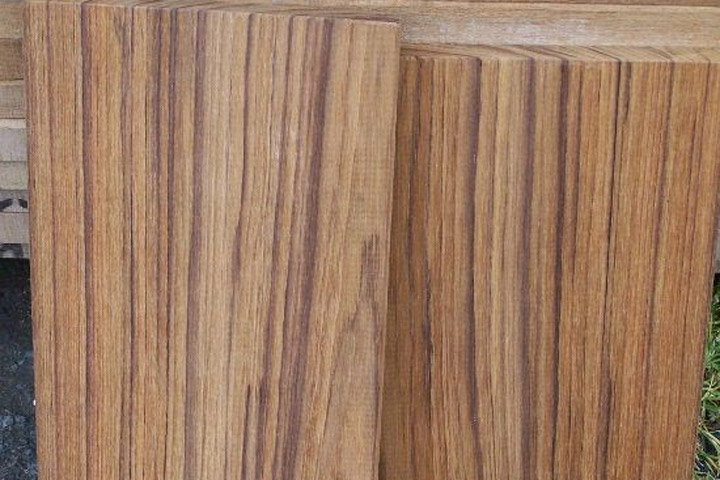 Determining a Waiting Period
Oxidation alone will allow for a general darkening, but only exposure to light will lessen the unsightly streaking. It's important to make sure your customers understand this process, so they aren't surprised and disappointed when they see their newly installed Teak deck for the first time. In our instant gratification society, waiting a few months for the signature beauty of a new Teak build to fully be realized can seem like forever.
If your customer desires a deck or floor that will appear consistent immediately upon installation, you'll need to add extra lead time to the project, ensuring that each board gets a "sun tan" prior to the build. No matter when the waiting period takes place, it will need to happen; once it does, though, the Teak boards will be sure to display the consistent, warm brown color everyone was initially hoping for.
Continue reading with Part 2.