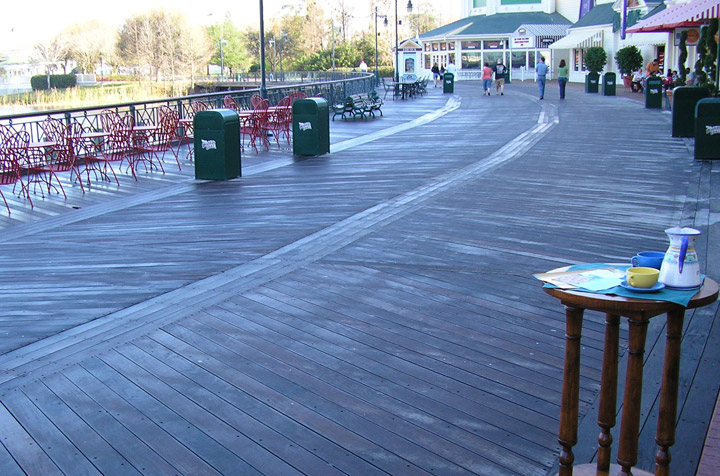 When it comes to building a boardwalk, you want to use a user-friendly material that will stand the test of time. We covered the topic of user-friendliness in-depth in our first article. In our second article, we explained how wood decking is more water, insect, and mold resistant than composite decking. In this article, we'll look at some of the other ways wood decking is more durable than composite decking.
Wood Decking is Harder Than Composite Decking
For a backyard deck, you may be able to get away with installing a composite deck. After all, such a structure is going to endure a relatively light amount of traffic. But a boardwalk along the shore in a bustling tourist town will have to endure an immense amount of daily foot traffic. The hardness of a tropical hardwood decking product such as Ipe or Cumaru is nearly 10 times that of composite decking materials. The greater the amount of traffic, the greater the susceptibility there will be to damage. So there's a high likelihood that a boardwalk made of composite material will quickly begin to show the impact of wear and tear.
Wood Decking is More Scratch Resistant Than Composite Decking
Due to the medium hardness of composite decking, it sustains scratches far more easily than wood decking materials do. The polyethylene plastic used to make much of the outer shells of most composite decking boards is relatively weak. Polypropylene is somewhat stronger, but even this tougher material gets scratched easily. Once there's a scratch that reaches through to the inner core, mold, and decay will quickly find its way inside the boards.
It is for this reason that composite manufacturers caution purchasers about using metal snow shovels on these decking materials. However, for a municipal boardwalk, there's sometimes simply no practical composite-friendly alternative available for clearing away snow and ice. Cities routinely use both metal snow shovels and plow trucks to clear off composite boardwalks. Every winter you can expect to see new scratches and punctures on your composite boardwalk.
Wood Decking is More Heat-resistant than Composite Decking
Plastic also breaks down rather quickly in high temperatures. When this happens, oil or even gas byproducts can leak out onto the board surfaces. These weaker, warped composite boards give off an unpleasant odor. During the summer the composite decking materials will retain heat long past sunset. Due to their heat-retaining nature, the composite boards tend to wear out far more quickly than wood decking boards. The wood boards won't react this way when they heat up in the sunlight. Since they're made from trees that often grow in hot environments, they tend to withstand heat much better than their composite counterparts.
When it comes to durability, wood is the clear winner. Wood decking materials hold up impressively well under all sorts of different conditions. In our next article, we'll compare the two decking materials to see which one is more environmentally friendly.