Each year, some of the boardwalks lining our seashores and lakefronts will need to be replaced for one reason or another. Perhaps they were destroyed or damaged in a severe storm. Or maybe they're just getting old and worn out after decades of use. In any case, these replacements can end up causing quite a bit of controversy when it comes to the choice of materials for the new boardwalks. Everyone from concerned citizens to environmentalists and city planners has their own strong opinions about which type of decking boards should be used to complete the project. Some of these folks are quite passionate about the alleged superiority of composite decking when compared to wood decking. But is composite really a better choice than wood? In this series of articles, we'll explain some of the reasons why durable hardwood decking, such as Ipe or Cumaru, is actually a better option for decking than composite decking.
In What Ways is Wood Decking Preferable to Composite Decking?
There are a whole host of different factors to consider when comparing composite and wood decking. We'll look at three main categories as we make our case in favor of using wood decking for boardwalks. First, we'll consider which of the two options is more user-friendly. Second, we'll look at which of the materials is more durable. Lastly, we'll try to demonstrate which one is better for the environment. After looking at all the evidence, we think we'll be able to make a persuasive argument for wood decking being the better of the two options.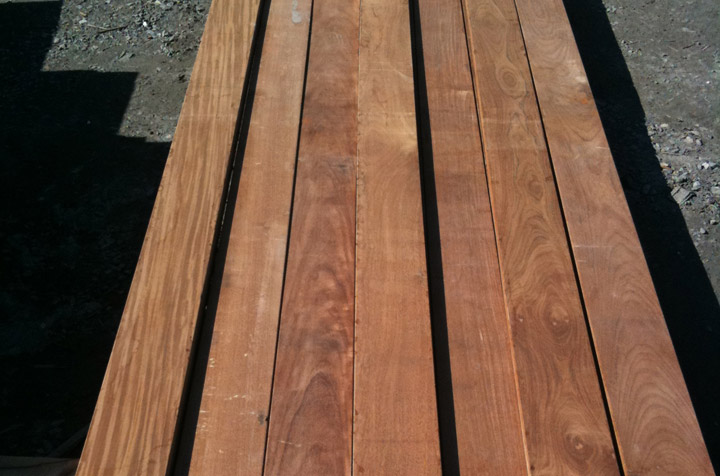 Wood Decking is More User-Friendly Than Composite Decking Because of Heat
Several factors lead us to the conclusion that wood decking is easier for people to walk on than composite decking. Because composite decking is basically made of plastic, it tends to become quite hot when it's left out in direct sunlight. Most decks are specifically designed to be in outdoor areas with plenty of exposure to the sun. This is especially true for beach boardwalks. If people who are lounging around on the sand forget to put their sandals on when they take a stroll on a boardwalk made from composite decking, they're in for a nasty surprise. Their feet will feel extremely hot and uncomfortable the moment they step onto the boardwalk. They may even injure themselves if their skin is sensitive to hot temperatures. Wood won't retain nearly as much heat as composite decking materials.
Wood Decking is More User-Friendly Than Composite Decking Because of Slip Resistance
Another factor that makes wood more user-friendly than composite decking besides heat is the latter's slippery surface. Because of their oil-based nature, water tends to pool on top of a composite decking board's surface. This can lead to the potential for slip-and-fall accidents. Manufacturers of composite decking who recognize this problem do their best to give the surface of their materials a faux wood grain texture. This may work for a while, but after the heat builds up inside the plastic and begins to break the plastic down over time, the oil seeps out. The surface once again becomes slippery as the faux wood texture becomes distorted in the months and years that follow. Any number of substances, such as suntan lotion or soda, can end up spilling on the slick, plastic-based boardwalk and cause someone to slip.
As you can see, composite decking isn't the most user-friendly material available. Wood is far less likely to cause burns to bare feet, or slip and fall accidents. In our next article, we'll consider which option is the more durable of the two.