Composite decking is gaining popularity, and we certainly understand the appeal. After all, it has the appeal of exotic hardwood decking, and none of the potential problems associated with it, right? Well, as much as we all wish there were such a unicorn at the end of the decking lumber rainbow, there simply isn't. We can hope and dream, and maybe someday it will happen, but it hasn't so far.
Compared to Ipe, composite decking materials are inferior in many ways. We discussed them in our previous 4 posts (see Parts 1, 2, 3 & 4), and we will review those issues briefly now, before we look at one more issue. While any of these problems can be concerning when you're building a residential deck, they're likely to wreak major havoc when a large, well-used public boardwalk is in question.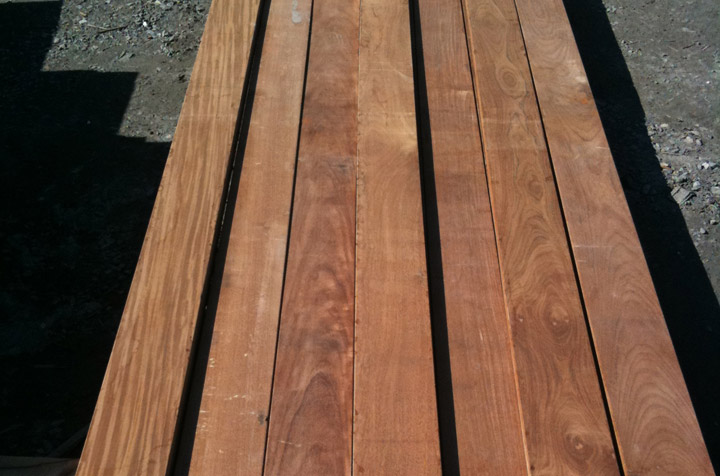 Summary of Environmental Issues
Contrary to popular belief, composite decking is not truly environmentally friendly. While it does make use of by-products from the oil industry, it is not renewable; of course, neither is oil, but that's another debate altogether. Composite decking is neither biodegradable nor renewable. Like all real wood, Ipe decking is both of those. Once its usefulness is over, composite decking will remain for centuries at the bottom of the ocean or a landfill, but it will not biodegrade.
Summary of Composition Issues
Many of the other characteristics we evaluated point back to the basic material from which composite decking is made: typically cap stock made from a low-grade plastic, polyethylene, along with a wood flour core. The plastic part of its composition creates issues including hardness, slipperiness, temperature, fire resistance, strength, and scratch resistance. The plastic cap stock also has a memory, and once it expands, it will not contract.
Beneath the plastic cap stock, most composite decking boards are made from wood flour. This core not only absorbs moisture but moves in unpredictable ways, leading to issues with mold as well as lack of strength.
Issues with Uneven Warping
In response to changes in temperature, the inner wood flour core of composite decking will move, as will the plastic cap stock as it responds to that movement. And since plastic has a memory when it is stretched in response to the inner core's expansion, it will not contract when the wood flour core sheds moisture. The resulting separation between the core and the shell will lead to uneven warping, particularly at sawn ends. Because boardwalks are extremely wide, butt joints can span the entire width, making the swelling on ends staggered throughout the entire width.
By contrast to these many problems with composite decking, exotic hardwood decking species such as Ipe are often less expensive throughout their product lifetime. They'll last longer too and replacing them won't be a problem, either practically or environmentally.