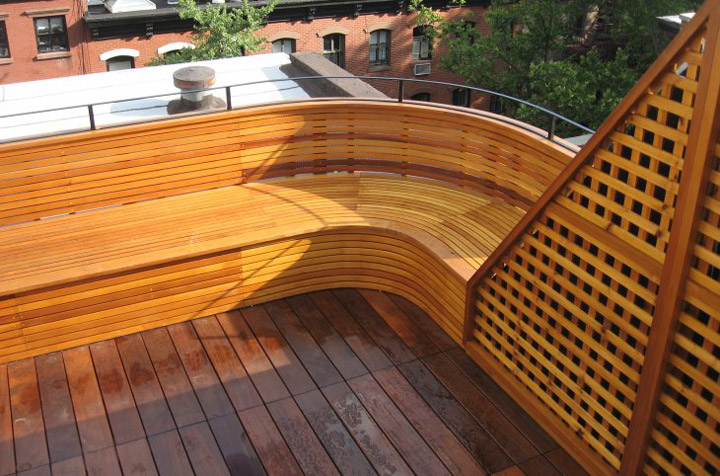 You may think you know how composite decking compares to Ipe; after all, the latest is always the greatest, right? Well, not always. While composite decking might seem like a good choice for the short term, especially for small residential decks, over time it will reveal its weaknesses — especially when used in well-traveled areas like public boardwalks. In Parts 1 & 2, we looked at several areas in which composite decking is clearly inferior to tropical hardwood decking: biodegradability, renewability, hardness, temperature, and surface texture.
Response to Precipitation and Moisture
The first composite decking materials were made from a mixture of PVC or polyethylene with wood flour. The wood flour would readily absorb moisture; however, the wood flour lacked the structures that allow solid wood to shed that moisture, so mold was the unfortunate result — along with many lawsuits. Not only does wood flour lack the ability to shed moisture, but it also eliminates the natural resins that protect solid wood from insect infestation.
More recent composite decking is made from a wood flour core surrounded by "cap stock" made completely from plastic. The idea behind this form is to protect the vulnerable inner wood flour core from moisture; however, there's still a definite weakness. The cap stock and core both respond to moisture levels as well as temperature shifts and use. As a result, the shell can easily become cracked or separated from the core, which compromises the board's ability to resist moisture and hold up to regular use.
Another potential issue comes up when the thin cap stock endures a puncture, exposing the inner core to the elements; of course, cutting boards to length and installing them result in plenty of that kind of exposure.
Fire Resistance
Did you know that Ipe has a class-A fire rating? This characteristic that has earned this species the nickname "Ironwood" certainly sets it apart from composite decking materials. This shouldn't be a surprise, since we all know what happens to plastic when it's subjected to a flame: it melts. And it releases toxic gases in the process. On a boardwalk with plenty of charcoal grills and the potential for grease fires, is plastic really a safe choice?
Beyond the safety issue, which is significant, think of the deformed boards. When they require replacements, not only will color-matching them be a challenge, but disposal of the problem boards means more stuff in a landfill that will never biodegrade.
Continue reading with Part 4.