The upsides and downsides of any given building material are intensified when used in commercial applications. Not only are commercial projects often larger, but they endure a lot more use than the typical residential application. Such is certainly the case when you consider decking products for use in public boardwalks.
Every year, boardwalks are replaced — sometimes due to age, and other times due to catastrophic events such as hurricanes. But no matter what the reason, when a boardwalk project comes up, city planners on either U.S. coast will be accosted by environmental groups who lobby for them to utilize composite decking products. Are these products really better? Are they more environmentally friendly?
Contrary to popular belief, they may not be the best choice after all. Especially when we're talking about boardwalks. An exotic hardwood decking species such as Ipe would actually be a much greener, cost-effective, and long-lasting option. Yes, really!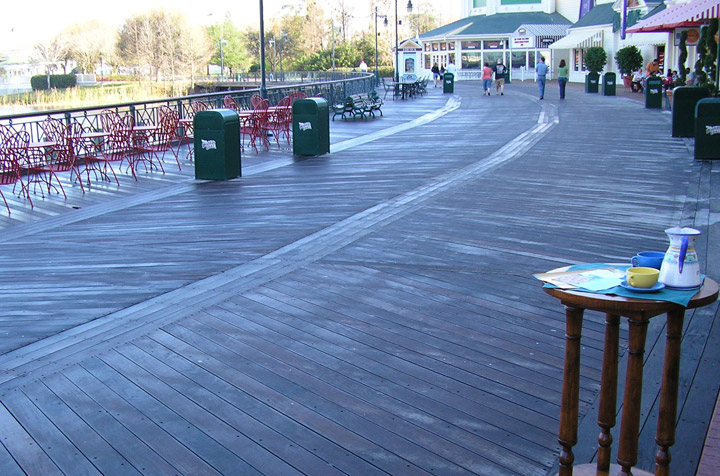 Renewable vs. Not-So-Renewable Resources
A huge reason that natural decking lumber is better for the environment than composite materials is that lumber is a renewable resource. We all know that in the past the lumber industry's overly zealous approach led to some deforestation. However, today's increasingly cautious forestry management programs combine with governmental regulations, ensuring that for each tree that's cut down, at least one or two dozen new ones are planted. And growing trees actually benefit the environment more intensely than old ones do (we'll discuss that more a little later in this post).
Another major misunderstanding is common when it comes to deforestation: the lumber industry actually accounts for a very small fraction of it. How small? Try 2-3%. Unlike the oil industry, the lumber industry is truly involved in harvesting and replanting renewable resources.
By contrast with real lumber, composite materials are made from resources that are far from renewable. Petroleum products (including polyethylene, polypropylene, and poly vinyl chloride) all rely on the oil industry. In fact, composite materials are actually a result of oil companies being mandated to find uses for the harmful byproducts that occur as a result of their far-from-environmentally-friendly manufacturing process. While it's a good thing that the waste created by the oil industry is being used, it's still heavily reliant on that industry. And eventually, the material will still end up in a landfill. Which leads us to our next point.
Biodegradable vs. Non-Biodegradable Materials
We all know that biodegradability is a good thing, right? Well, then, how can composite decking also be good for the environment? (Spoiler alert: it isn't.) In either the ocean or a landfill, lumber will biodegrade completely in a decade or less. However, composite decking will last forever — in a landfill, that is. Unless, of course, another hurricane hits the East Coast, washing boardwalks out to sea. The pieces that won't biodegrade will sink to the bottom of the ocean where they will remain.
Continue reading with Part 2.