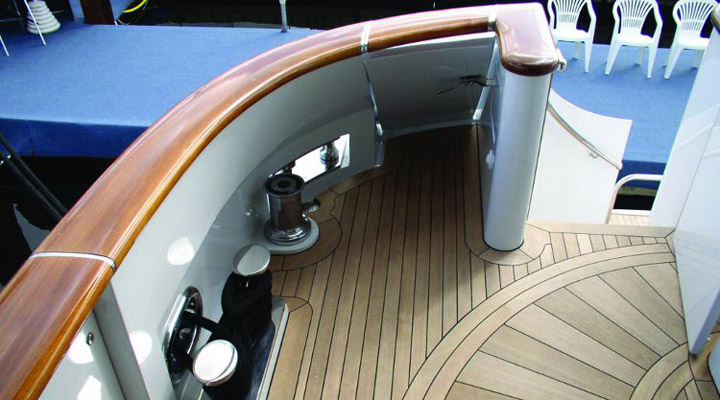 It might seem to make sense to you to use a completely different species than you have before to build something you've built many times before. But it may not work. Unlike manufactured products, where a simple color or finish type simply means a different pigment, each wood species has its own unique set of characteristics, and some are more diverse than others. One arena where this issue has come up is within the boat building industry. After a long history of using Burmese Teak, which has been waning in availability, many boat builders are turning to new species for boat cabins, in particular. With little-to-no experience with species other than Teak, many builders need to reevaluate their designs and methods when working with other species. Especially when they choose one as unusual as Walnut.
Teak vs. Walnut
Unlike Teak and many other exotic lumber species, Walnut has many knots and typically comes in shorter boards, making many projects designed with Teak in mind difficult to construct with Walnut. The many knots that some highly prize in Walnut may not be suitable for some typical Teak applications, requiring a builder to work around knots — a new concept for many within the boat building industry. Holding out for "clear" Walnut would prove to be an inefficient use of resources — both time and money — so learning this new skill is certainly worthwhile. Of course, knots aren't the only issue: wane, sapwood, and checks also come into play. Value engineering can definitely help marry a new species with the original design; it just takes a little forethought and creativity.
Custom Inventory and Grading Options
When J. Gibson McIlvain encountered a change-of-species scenario with a particular customer, here's what we did. We stopped. We listened. We met with those involved and explained how the two species differ and how they could adjust. They reconsidered and came back and told us where they couldn't compromise quality. After this meeting of the minds, not only did the customer re-evaluate how they retro-fitted Walnut into a design originally created with Teak in mind, but we re-considered how we purchase and grade Walnut. We now carry more higher grade Walnut and have a specific grader who is equipped to pull Walnut specifically for the customer, along with a customer-specific buying plan that allows us to continue to keep an inventory of ideal Walnut on hand for them.
The kind of careful consideration, education, communication, and custom provision described above isn't limited to boat builders or those who have specific Walnut orders to place. It simply reflects the kind of customer service and commitment to quality that pervades J. Gibson McIlvain Lumber Company. Please feel free to contact us to request a quote, a meeting, or information of any kind.