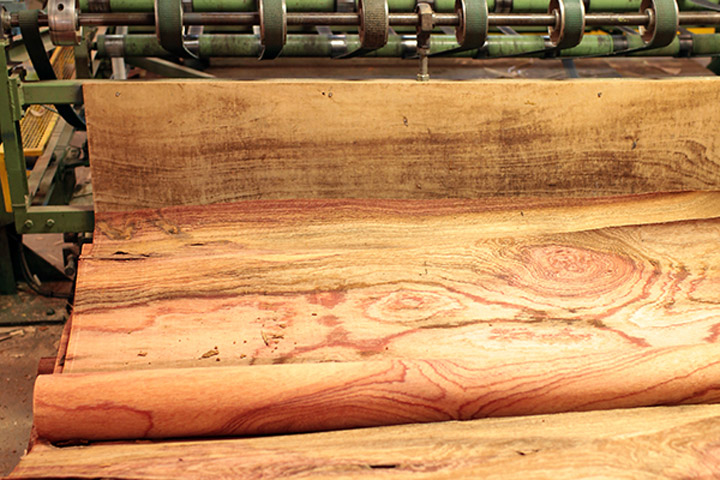 Plywood has a high value in terms of both price and quality, and the two typically go together. To satisfy the demands of our clients, we at J. Gibson McIlvain carry particular varieties of plywood. We also hope to remove some of the mystery surrounding plywood pricing. In the first and second parts of this series, we mainly focused on hardwood plywood with cores composed of MDF, particle board, and lumber. We also started talking about veneer core plywood in Part 2. We'll continue to discuss the benefits of veneer core plywood and draw distinctions between the various veneer species in today's topic.
Veneer Core Plywood
The thin veneers that make up veneer core plywood can have a thickness of 2 to 6 1/2 millimeters. These veneers are stacked with the grain going in opposite directions to produce a stable substrate. The product will be more stable the more layers there are and the thinner these layers are. Although it is practically impossible to completely eliminate gaps between layers, the size and number of gaps will define the grade.
The species used in this sort of plywood is another factor that affects grade; the species is at least somewhat influenced by the location of the mill that produces the plywood. Due to the wide variety of veneer species available, veneer core plywood is unmatched in terms of its ability to hold screws. Aspen, Birch, Fir, Maple, and Poplar are a few of the most popular species utilized to make veneer core plywood.
Specific Species
Along the Western US coast, veneer core plywood made from Douglas Fir is highly popular. Fir core plywood is stable and weatherproof, and it holds screws very well. The relatively supple layers enable manufacturing imperfections to be evened out during compression.
Aspen core plywood, which is also found in the West, is comparable to Fir but less dense, producing a lighter sheet. An Aspen core typically allows for plywood with a face that is consistent because the softness allows for compression.
Along the country's eastern border, Poplar core plywood is frequently used. Plywood with a Poplar core is more durable and heavier than Fir, but it lacks weather resistance. Poplar resists compression, therefore the surface veneer will show voids and knots that are a part of the plys.
Hardwood plywood with Birch or Maple cores is a high-end, speciality product with a greater number of very thin plys compared with plywood that utilizes Fir or Poplar cores. The layers that are more numerous, firmer, and thinner help to produce a product that is significantly more stable and void-free. When edges will be exposed or even decorative, this option is ideal because of the strong edge strength and low risk of splintering. Maple ply, also referred to as Apple ply, is regarded as the greatest (and most expensive) member of the core veneer family.
There are admittedly many factors to take into account while trying to select the best plywood for a project. Additionally, a lot will rely on the specifics of your project and your priorities. Sometimes stability comes first, while other times the importance of the facial veneer is greater. The best advice we can give is to establish a rapport with a knowledgeable, seasoned lumber supplier and engage in open-ended discussions when looking to acquire plywood for a project. Utilizing their knowledge will enable you to find the solutions that best suit your unique requirements.