What Kind of Tropical Decking Wood Would Best Serve Your Application?
For both commercial and residential decking needs, tropical hardwoods provide the basis for the kind of low-maintenance, long-lasting attractive structures that today's discriminating customers desire. High-end docks and decks are luxury additions that require premium tropical decking products. While some of the better composite products have proven to last up to 30 years, their durability and colorfastness pales when compared to tropical species such as Ipe, Teak, Cumaru, Massaranduba, or Tigerwood.
Ipe
Ipe is, by far, the hardwood decking species of choice. Its stability and rot-resistance contributes to its lifespan of 40+ years. This wood's density gives it a class A fire rating, putting it on par with steel; of course, it's much more attractive than steel, though. With its luxurious deep reddish brown appearance, Ipe is a long-term solution for even the most discriminating buyers.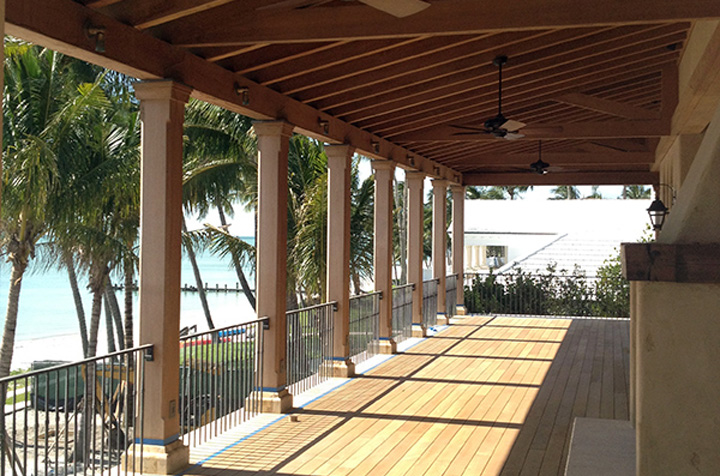 Teak
Teak is often requested by boat builders, but it's also increasingly used in private homes for high-end decking and interior flooring applications. Although not quite as indestructible as Ipe, Teak boasts a large following, along with its similarly attractive reddish brown hues.
Cumaru
With today's increasingly high prices of Ipe and Teak, Cumaru provides an increasingly popular, lower-cost alternative. Even though it lacks the extreme stability of Ipe, it can be quite stable when properly dried and given enough time for acclimatization before use. With either brown or yellow coloring, this dense hardwood is quite durable, as well.
Massaranduba & Tigerwood
Massaranduba is also known as Brazilian Redwood, and it ties with Tigerwood as an affordable alternative to the more popular tropical decking species. Although neither Massaranduba nor Tigerwood are as readily available, these species may be ideal for your small decking project.
For those concerned about sustainability, these tropical decking species are actually some of the greenest options you can find. Despite popular logic, we need to keep buying lumber from the rainforests to save them. The basic reason is that if we eliminate the market for the lumber, the forests will fail to be harvested and replanted; instead, they will be eliminated in favor of industries such as cattle ranching that can turn a profit: Even people who live by precious rainforests need to earn a living.
At J. Gibson McIlvain, we've worked hard to build relationships with lumber mills in Southeast Asia, South America, and Africa, in order to provide our customers with a continual supply of high-quality tropical decking lumber for their premium decking needs. We have a highly experienced staff with expertise in a variety of tropical decking products. They can help you determine the ideal species for your decking project, considering the precise environment and use. Since we can ship to anywhere in the United States (as well as to Canada and the Caribbean Islands), you can count on us for all your decking project needs.