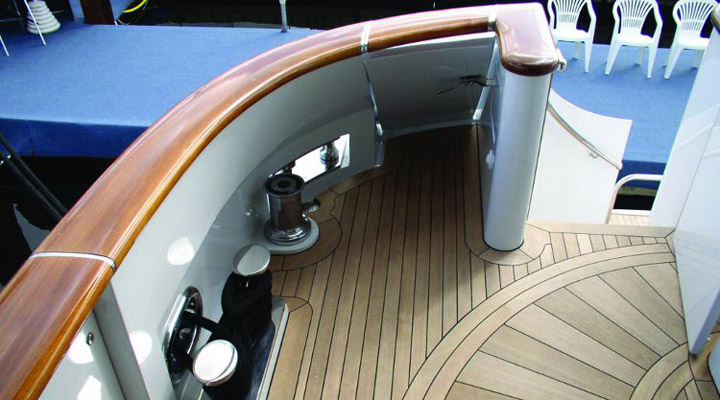 Teak is a high quality, coveted wood; however, it comes with "issues"
As the #1 species used for by yacht builders as well as one of the top tropical hardwood species used as a decking lumber, Teak is a high-quality lumber species with a variety of interior and exterior applications. This Southeast Asian species has many issues surrounding it, though, and customers should be aware of the unique characteristics of the Teak market.
Issues with Re-Drying
Like most kiln-dried exotic lumber, Teak is typically dried to European standards (12-15%), which is fine for exterior applications. However, interior applications and those that require greater precision in joinery require re-drying to the North American standard (6-8%), in order to avoid movement issues during your build. (If you're not sure if your project requires re-drying, your Teak dealer can help you decide, based on the details of your application.) Of course, re-drying adds time and cost, as well as a certain amount of waste, so asking your dealer about the moisture percentage of the material quoted will be key to your being able to make apples-to-apples comparisons among various quotes.
Unusual Sizing
Unlike most lumber species, Teak is not sold like rough-sawn lumber. It's not sold like an S4S dimensional product, either, though; instead, it's sold in sizes that are close to the finished product, with a variety of thicknesses, lengths, and widths and is priced similarly to dimensional softwoods. Despite this pricing structure, Teak is, in fact, sold in its rough-sawn state, allowing for a certain amount of leeway regarding length and width as well as bundles of random widths and lengths. In order to be sure that you receive the right sizes for your job without purchasing too much overage, you'll need to be extremely vigilant; every board foot counts, especially when you're working with such highly prized — and priced! — lumber.
Inflated Pricing
Of the many factors influencing Teak price, here the major ones:
• Market-driven price points affecting availability
• Great distance from forest to lumber yard
• Future uncertainty regarding supply due to increasing Myanmar government restrictions
• Higher demand that is lessening the supply of straight, vertical-grain, FEQ Teak.
One way to overcome the higher pricing these issues provide is to consider "short" boards that are less than 8 feet long and narrow boards that are less than 6 inches wide. Insisting on 12-foot lengths and 8-inch widths will only continue to decrease the availability of high-quality Teak but will also cost you (and your customer) much more than necessary. The more lumber in a log that can be used, the less waste is created, and the pricing will reflect current trends.
While the ever-changing Teak import market may be out of your control, and prices will likely continue to rise, by understanding some of the ups and downs of the Teak market, you can get more for your money and avoid costly mistakes when you place your order.