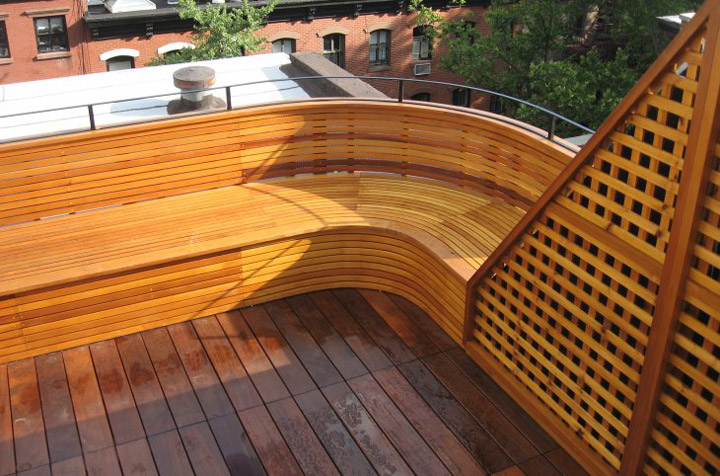 Species such as Cumaru, Ipe, Massaranduba, Tigerwood, and other tropical lumber species can make exceptional decks! Not only are they hard and dense, but they also boast excellent resistance to insects and rotting, making them extremely durable. And it doesn't hurt that they look gorgeous, either. But they don't come cheap, which gives you an extra incentive for installing them in a way that ensures that they'll last as long as they possibly can.
In Part 1, we took a look at how you can avoid two of the major potential problems that can accompany working with tropical hardwood decking: rough spots and warping. Now we'll look at a couple more issues that can come up, along with how you can avoid them.
Issue #3: Splitting
If you're used to working with softer decking lumber, such as pressure-treated Pine, you know that as you drive screws in, the wood fibers compress easily. Well, when you're working with tropical hardwood lumber, that's not going to be the case. (Consider the fact that Ipe is actually 6 times the hardness of pressure-treated Pine!) Without pre-drilling, these extremely dense, hard species can easily split. You'll need to drill larger holes before you attempt to drive in the screws. Regardless of whether you use face-screwing or hidden fasteners, some screwing will be necessary. With all that pre-drilling required, you'll need to allow for added time and labor when you're using tropical hardwoods.
Issue #4: Tough on Tools
Even if you pre-drill, you need to realize that these hard species will be tough on your tools! Not only do you need to make sure the tools you use are extremely sharp, but you'll also need a powerful drill. If you have a standard cordless drill, it may not be powerful enough; make sure any power tools you use are able to handle the workload of the extremely hard lumber you plan to use. Even with the right tools, you should plan to break a drill bit — or 2 or 3. So make sure to have some extras on hand — and, again, figure that potential issue into your overall cost for the project.
Issue #5: Variation in Color
If you're used to working with real wood, you know that color matching is more of an approximation anyway. But when it comes to some tropical hardwood species, the range can be even more significant than your typical color variation. (This will be especially shocking if you're accustomed to working with composite decking products, which are artificially dyed, or pressure-treated lumber, which is often stained to reduce the natural color variation.) That's quite true of Ipe, which grows over an extremely large growth range. Ipe is often brought from various locations into a single saw mill, from which it's distributed; as a result, lumber from multiple regions can make its way into a single shipment and order.
It's important to remember that when tropical hardwood decking boards arrive on your job site, they will have traveled far and been subjected to a variety of factors on the journey. They are not finished products but will require some TLC. However, even with these potential issues to carefully plan for, tropical hardwood decking is still a great option that will look beautiful for years to come.