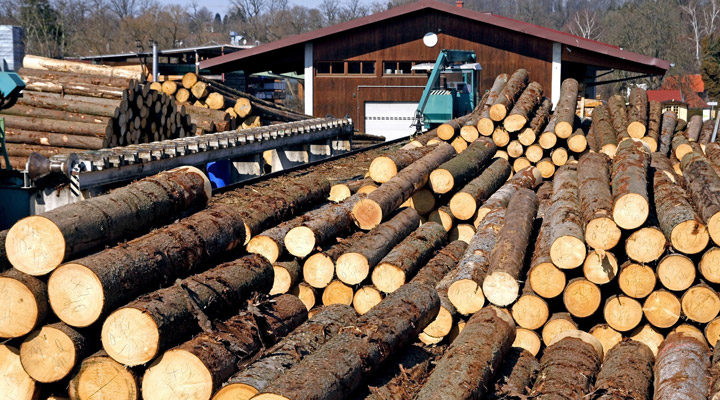 Our increasingly environmentally conscious society is bringing some important issues to the forefront when it comes to construction and design. While new, so-called "green" products are continually entering the market in response to this ongoing trend, let's not forget the premium, time-honored, renewable and recyclable building material that occurs naturally on our planet: real wood. Due to the carbon it sequesters, fostering bio-sequestration, it's actually even more of an ideal green building product than many people realize.
Lumber Is a Renewable Resource
When you cut down a tree and plant another in its place, you're taking advantage of the fact that lumber is renewable. Some countries, like Canada, go above and beyond, planting 20 new trees for each tree that's harvested. Of course, the newly planted tree will take decades to mature and become available for use as lumber, but thanks to well-managed forestry practices that have been in place for a century or more, today's lumber industry is thriving in many countries. Supply and demand are always leveraged against long-term forest ecology, but that's simply part of the lumber industry. And since the lumber industry stands to lose more than any other particular market niche if forests cease to be managed well, it's in the industry's best interest to continue to carefully manage forests for the future.
Commercial Value Increases Forest Health
While idealists may insist that forests have intrinsic value, the reality is that the commercial value of wood highly affects the health of forests. (If you don't believe us, read up on the Yasuni-ITT Initiative!) As long as a healthy demand for lumber coincides with ongoing lumber production, the land on which forests thrive retains its value as such. However, when something disrupts the system — such as bans on logging a particular lumber species — the land actually loses its commercial value, essentially becoming worthless. Land owners are then forced to seek alternative uses for the land, such as livestock grazing or agricultural pursuits. The harsh reality is that land owners require returns on their investments. While some may see forestry as a "necessary evil," the constant process of newly planted trees growing into mature ones creates unique environmental benefits.
Sustainable Forestry Practices Encourage Bio-sequestration
The Carbon and Oxygen Cycle by which plants and humans complement one another's existence can get out of balance; many believe that too much Carbon in the atmosphere is contributing to Global Warming. While that issue remains in the arena of theory, we do know that when we keep more Carbon out of the atmosphere, fewer greenhouse gases emerge. Because Carbon remains part of organic material, when a tree dies and rots away naturally, no Carbon is released into the atmosphere. This Carbon-capturing benefit of lumber makes it even more beneficial to the environment than many people realize. Not only is it not part of the problems plaguing our environment — it's actually part of the solution!
To learn more about how forestry and the lumber industry benefit the environment, check out Part 2.