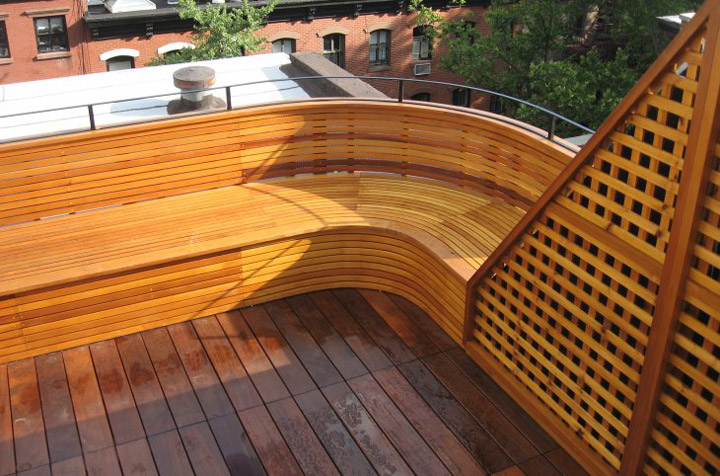 It's summertime, and that's what we call "decking season" around here! Ipe is, hands down, our most popular decking lumber product. But due in large part to its high (and rising!) price point, many of our customers ask about suitable alternatives to that premium species. In our first post in this series, we compared our top-selling Ipe-alternative decking species: Cumaru. Now we'll look at several more lesser-known alternatives that have many great characteristics. Who knows?! You might even meet your new favorite decking product as you read.
Recommended Decking Species: Red Balau
In the same genus as Mahogany, Red Balau resembles this favorite species of furniture makers in coloring as well as texture and workability. It boasts excellent color consistency and displays few defects, particularly as compared with other tropical hardwood decking species. While it isn't as hard as Ipe and some of the other decking species we recommend, it is harder than domestic Hard Maple. Because of its less extreme hardness, though, it's easier on tools than many other species. Because it isn't as widespread as Ipe or Cumaru, Red Balau is more difficult to source from some local dealers, but at approximately half the price of Ipe, it's worth asking around about. (Or just call us! Here at J. Gibson McIlvain Lumber, we keep a large stock of Red Balau on hand.)
Recommended Decking Species: Jatoba
Sometimes referred to as "Brazilian Cherry," this species can also be used for interior flooring applications. Like domestic Cherry, its gorgeous red color will deepen over time, particularly with exposure to sunlight. As a tropical species with a hardness similar to that of Ipe, though, Jatoba offers exceptional resistance to both rot and insects. A unique benefit of Jatoba is that it can allow you to visually blend interior and exterior living spaces.  J. Gibson McIlvain carries a large stock of both exterior Jatoba decking and Brazilian Cherry for interior use.
Recommended Decking Species: Tigerwood
Named for its brownish orange color combined with dark striping, Tigerwood is also known as Goncalo Alves. Over time, the unique appearance will deepen to a reddish brown with more subtle striping. This lumber species is quite stable in a variety of climates, but it does require kiln drying in order to perform well. Used for both decking and interior applications, Tigerwood can be both attractive and challenging. Since the stripes are uneven, they make it challenging to assemble a deck with a consistent appearance. The texture of Tigerwood is extremely smooth; on one side, this feels great for bare feet, but on the other side, it can be slippery. While we stock much smaller quantities of Tigerwood decking than the other species we've described above, it is still available upon request.
Continue reading with our third post.