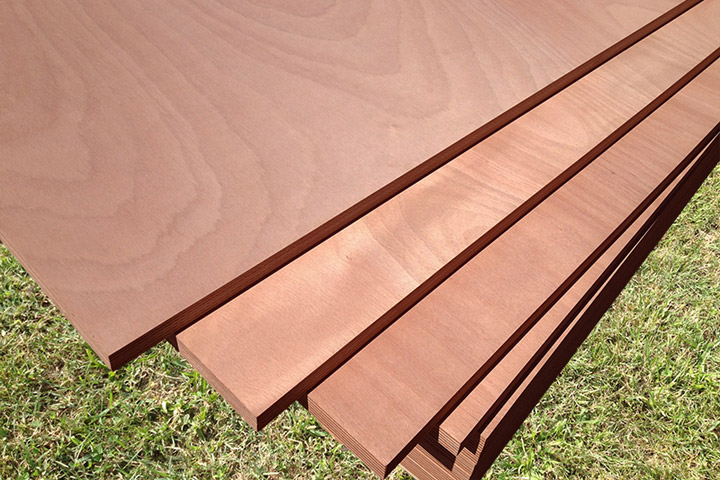 At J. Gibson McIlvain Lumber, we're committed to providing our discriminating customers with only the highest quality and grade of lumber possible; at the same time, we want to protect our customers from overspending or overbuilding their projects.
We absolutely love the Bruynzeel line of marine plywood we now carry and realize that our boat builder customers require an extremely high level of marine-grade materials which is perfectly found with our Bruynzeel product line. With its extensive line of Okoume and Sapele marine panels, Bruynzeel marine plywood meets the needs of many of our customers.
With the added ability to customize face veneers to meet specialty project needs, this high-end line allows even the plywood to meet both builder specifications and internal standards. Marine applications vary and require plywood that is comprised of a stable core as well as a lightweight option or a harder, denser stain grade option to provide for different needs of various applications.
The Bruynzeel Difference
Many marine customers have endeavored to make due with Teak or Holly plywood with Birch core. However, the inconsistent quality and problems with the face can make it far from ideal. Compared to Teak or Holly Bruynzeel plywood with an Okoume core, any issues with inconsistency or face become nonexistent.
One of the keys to Bruynzeel's success is that the face veneers are 1.5mm thick, the same thicknesses as the inner plies, resulting in a higher quality panel that achieves balance. Faces can be center-matched or otherwise arranged in order to blend well with other panels. Okoume boasts a homogenous, defect-free surface, making it ideal as a substrate with a harder species covering it; however, its grain pattern lacks interest, and its softness makes it far from the best option for flooring. Thanks to Bruynzeel's fully customizable, modular approach, such a concern poses no real problem.
Specific Applications
For surfaces such as flooring that will endure great stress, Bruynzeel offers a 100% option, referred to as Super Hechthout. Made from rotary-cut Sapele, Super Hechthout meets the same high standards as Bruynzeel's Okoume panels (referred to as Hechthout): There are no seams or patches, and the panel carries Lloyds registration. When extra durability is required, a Teak or Holly veneer over a Sapele core can provide an exceptional surface.
Marine Ply Requirements
There are two basic types of marine-grade panels that can meet every single need of marine construction. The main requirements are these:
• A lightweight, strong substrate with a homogenous surface (Okoume)
• The highly durable and dense panel with a deep red face and ideal surface for stain-grade applications (Sapele)
• The possibility of a custom panel (with either an Okoume or Sapele core) laid up with specialty face veneer, chosen for the most suitable density, weight, and durability
We trust you see the wisdom in discussing your end-use application with your lumber supplier — as well as the beauty of the Bruynzeel modular design.