It could be tempting to purchase up any Teak you can find because there is typically a restricted supply of Genuine Teak being exported from Burma. We're not saying you shouldn't purchase Teak, but there are a few things you should think about first. To ensure that you truly get the kind of Teak you need, you'll want to make sure you're providing and requesting as much information as possible from your lumber supplier, especially if you're comparing Teak costs from several providers.
Can You Find the Required Size?
Teak is measured a little differently than most lumber species, and its sizing is likewise restricted. Although it's not advertised as an S4S dimensional product, it also doesn't quite resemble rough sawn lumber either. Teak is typically priced similarly to dimensional softwoods, since the sizes in which it is marketed are more closely related to the size of the finished product. Teak is frequently offered in bundles of random lengths and widths, since it is technically rough sawn, which means there will be more diversity in both length and width.
Teak prices are quite high, so you should definitely be cautious regarding excessive overage; on the other hand, you do need to buy some overage. You'll be able to acquire an exact price quote from any possible suppliers and then compare that price to quotes from other suppliers if you provide them with the particular dimensions needed for your project. Any significant pricing discrepancies should cause you to be concerned. To be sure you're comparing apples to apples – or, more specifically, Teak to Teak – you still need to ask a few more questions after providing particular size information.
Has the Teak Lumber Been Re-Dried?
Almost all exotic lumber that has been kiln-dried has been dried to the higher moisture-content criteria set by Europe, which ranges from 12% to 15%. As long as you give the lumber some time to acclimate at your work site before actual installation, that moisture content range will work just fine for the majority of external installations. However, if you intend to install your Teak indoors or if the project calls for exact joinery, you'll need to have the Teak lumber re-dried to a moisture content of between 6% and 8%; otherwise, you'll encounter some significant movement concerns both before and after installation.
Of course, you wouldn't want to needlessly increase manufacturing time, expense, or waste if your job doesn't require re-drying. On the other hand, if you actually require re-dried Teak, you just cannot afford to not buy it. You can protect yourself and ensure that you're buying the proper product for your application by asking the lumber supplier if the Teak they have has been re-dried.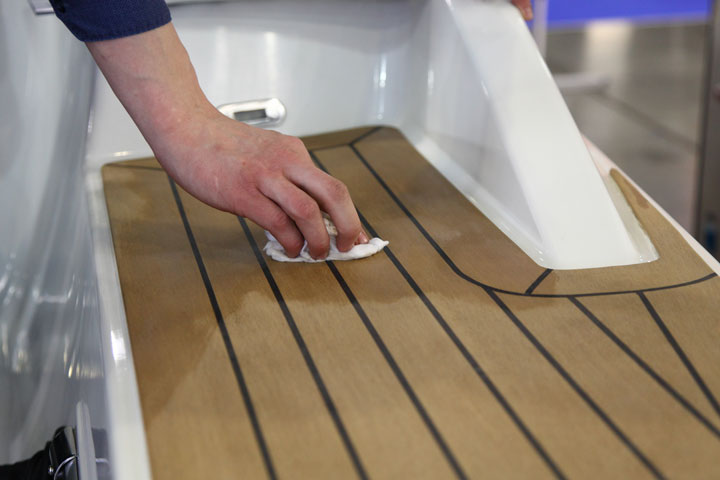 What Will You Do With Your Teak?
If your project calls for re-dried Teak, a professional lumber supplier will be certain to inquire about your plans for the Teak and be able to point you in the appropriate route and give helpful recommendations regarding lumber acquisition, acclimation time, installation and maintenance.
Note: Although J. Gibson McIlvain normally re-dries exotic lumber, we occasionally forgo doing so if a customer's demands don't call for re-dried Teak.