In our first article in this 3 part series, we explained how high demand for Teak due to recent home design fashions has highlighted the need to find a viable Teak alternative. One of the most promising options that have come to the forefront in recent years is Afromosia, a West African-sourced species known commercially as "African Teak." In this article, we'll take a look at some more of the advantages of Afromosia, as well as some of the potential challenges to its usage.
Reasons to Consider Afromosia as a Substitute for Teak
Though Teak is both beautiful and durable, its high demand makes it unreasonably expensive for many homeowners seeking to use it for interior and exterior design elements. Thanks to the priority placed on Teak by boat builders, Afromosia is becoming a popular choice for people who want Teak but just can't afford it. The two species share many similarities. Both have silica levels that lend themselves well to exterior applications.
In spite of its silica content, however, Afromosia really isn't as able to withstand the elements as genuine Teak. Though that relative inferiority to Teak would normally be seen as a disadvantage, there's one reason it's not: it makes Afromosia far less expensive than Teak. That's because, unlike Teak, Afromosia isn't suitable for boat building. Since boat builders aren't interested in purchasing Afromosia, they won't drive the price up for home builders who want to use it in a similar manner how they would use Teak.
Afromosia has another advantage over Teak. As soon as Afromosia is milled, it displays a golden color that is similar to the look of seasoned Teak. The difference between the two species is that with Teak, the handsome color comes on much later, long after the wood has been milled and has had time to oxidize and fade in the sunlight. Afromosia offers just the right levels of stability and hardness for durable, lasting exterior and interior applications such as trim, flooring, windows, and more. It contains less oil than Teak, so it actually lends itself more readily to holding a finish. With Afromosia, you get much of the same look of Teak with even some superior qualities for around half the price.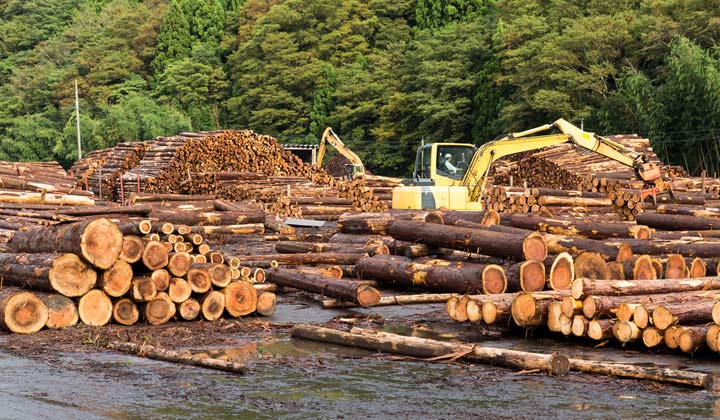 The Question of Sustainability
With all of these high points, it's hard to imagine Afromosia having a downside. There is, however, one issue that can't be ignored: sustainability.
All reputable lumber dealers and contractors should pay careful attention to sustainability practices when it comes to the wood products they sell or purchase. Not only can individuals who trade in unethically harvested wood face legal prosecution, but they're also hurting the very industry that supports their livelihood. Because of unsustainable lumber harvesting practices in the past, certain species of wood have had to be placed on endangered lists, and some are currently completely unavailable. It's extremely important to make sure that you as a consumer, contractor, or lumber dealer stay up to date regarding which species are currently listed as endangered or have other restrictions placed on them by international endangered species protection organizations as well as national governments.
In our final article in this series, we'll give careful consideration to how everyone involved in the harvesting, sale or purchase of Afromosia can make sure that this quality organic product is obtained in a responsible and sustainable manner.
Continue reading with Part 3.