All lumber will change color after it's been milled — and will continue to do so throughout its lifetime. When it comes to interior lumber, the amount of extractives or lignins in a given lumber species will determine how much color change it exhibits. (We looked at this issue in another post.) Lignins are water-resistant compounds that bind cellulose wood fibers together; extractives are found only in exotic lumber species and can be extracted to make other products.
There are a few lumber species that experience a greater degree of color change than others, though, and those species will be the topic of this post.
Cherry
One type of finish that's popular these days is a so-called "Cherry finish." But it's a bit more complex than most people realize. Freshly milled Cherry is actually a light pink color — quite different from the deep, rich, reddish brown hue which many associate with the species. Without any additives, Cherry will eventually take on a brown color; only with the addition of a dye or stain and years of accumulated dirt will it take on the dark red coloring many think of as a "Cherry finish." To meet customer demands for that coveted look, today's furniture makers go a bit overboard on dyes (whether they're using actual Cherry lumber or not). As the wood reacts to the finish over time, the color you end up with years later may actually be quite different than what you wanted, initially.
Mahogany
Mahogany is subject to a similarly misleading expectation. Like Cherry, freshly milled Mahogany is a shade of light pink. The deep, reddish brown color of antique Mahogany furniture can only be developed over decades or even centuries of accumulated chemical change and what might be nature's best-kept secret ingredient: dirt.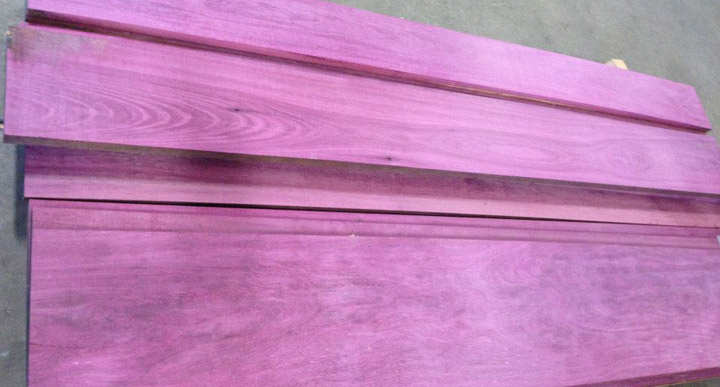 Purpleheart
Though not a highly plentiful or popular species, Purpleheart deserves a mention here because of its unique coloring. As you might expect from its name, Purpleheart displays a distinctive purple hue when freshly milled. However, as the extractives in the lumber react to heat, air, and light, it mellows into a more run-of-the-mill, brown tone. As you can imagine, this color change can be disappointing to those attracted to Purpleheart because of its distinctive color.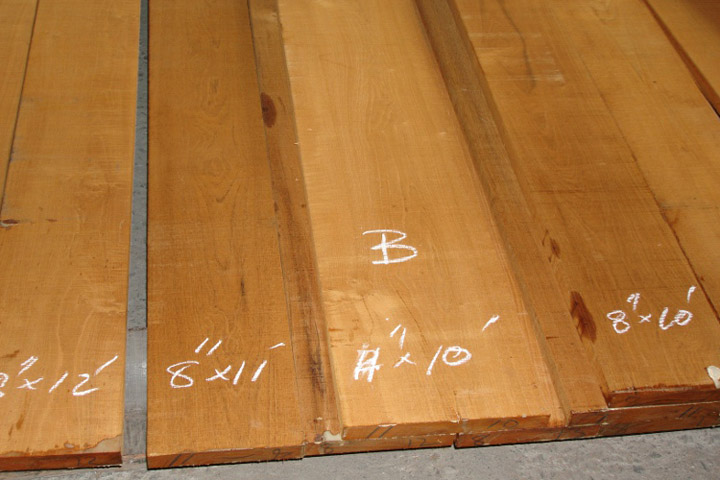 Teak
Another lumber species that undergoes a remarkable degree of color change is Teak. Different from Cherry, Mahogany, and Purpleheart, Teak is well known for its honey brown appeal. Its high amounts of silica and oil make it especially well-suited to marine applications, yet the same characteristics make the color of freshly-milled Teak less than appealing. Often, it appears multicolored and streaky, including blotchy areas of green, blue, purple, and gray. Over time, Teak will mellow into that beautiful golden color for which it is celebrated; but patience is required.
In order to encourage the mellowing and color change along, one thing you can do is to lay your wood out in the sun before applying any finish. Only one day of exposure to bright sunlight can make a world of difference!